Introduction
Welcome to the ultimate guide to building your very own DIY pool. This is a comprehensive resource designed to empower you with the knowledge and confidence to embark on your journey to your perfect pool. At Swimming Pool Kits Direct, we understand that the idea of crafting your own pool space can be both exciting and overwhelming. That's precisely why we've curated this guide. Each chapter will provide you with guidance and inspiration to help you with your pool journey.

With 10 years of supplying DIY pools and chatting to customers, we've pretty much seen and heard it all! Our goal in creating this guide is simple: to equip you with insights, practical tips, and guidance that will enable you to navigate the complexities of building a DIY pool with clarity and confidence.
1. Fibreglass Pools: DIY vs. Fully installed
Types of Fibreglass Pool Installation
When choosing a fibreglass pool company, you can opt for an all in one service where the pool company takes care of each stage of the pool building journey, from permits to landscaping. Alternatively, you can go with a DIY pool option which will save you thousands off the finished cost and requires a level of project management.
DIY Pool Installation
A growing trend in Australia is to undertake what is known as a DIY pool. The main benefit of undertaking a DIY approach is the impressive cost savings.
With a DIY fibreglass pool installation, the emphasis is on project management and leveraging individual trade skills. This approach involves overseeing and coordinating the various stages of the installation process, or if the homeowner is a tradesperson, personally executing the aspects within their expertise. In essence, a DIY installation involves understanding your own skill set and either managing the tasks or directly contributing based on your experience.
For instance, if you're skilled in excavation or plumbing, you could undertake those specific parts of the installation, while coordinating with other tradespeople for complementary tasks. Alternatively, if you lack the necessary skills, project management becomes the focal point, ensuring each phase - from site preparation and electrical work to placing the fibreglass pool shell - is executed smoothly and efficiently.
DIY with a Licensed Installer
Another option is to use a Licensed installer for the pool installation that offers a turn key package for your DIY install. This is a fantastic option if you want to save money but don't want to get involved in the installation. Many installers can offer a package which starts with Council permit and includes the excavation, installation, tiling and pool fencing. With this type of package, you will buy your pool shell and the filtration equipment, it will all be delivered to site and then the licensed installer will complete all of the installation. Although the cost saving will be less than if you took on more of the work yourself, they are still a considerable saving compared to a traditional pool company.
TIP: Do your research and check the licence of the installer you would like to use. Don't be afraid to ask questions to make sure you're totally across what to expect.
Cost Saving
The main difference between a traditional pool company and a DIY pool is the significant cost savings. When building a pool, there are several stages which require different trades. The coordination of these different trades is where the cost savings come into play, as the homeowner you can take the role of project manager. When you take on this role of project manager, you have the flexibility to source and coordinate individual tradespeople directly, eliminating the markup that comes with a comprehensive package. You can negotiate the very best rates with excavators, plumbers, and other professionals, potentially saving a significant portion of your budget. Moreover, by leveraging your own skills or those of trusted contacts, you can contribute to specific aspects of the project without incurring additional labour costs. While project managing a DIY pool does require careful planning, coordination, and adherence to regulations, the financial advantages can be substantial. The cost savings allow you to invest more of your budget into high-quality materials and features that enhance your pool experience such as pool cabanas, extra landscaping or premium glass fencing.
A fully installed fibreglass pool with a traditional pool company can cost anywhere from $25 000 - $80 000 depending on the size of the swimming pool and landscape requirements. However, with a DIY install most customers save at least $10 000 with some saving up to $30 000. This is a huge cost saving and when budget is an issue, it can make owning a swimming pool an affordable opportunity for more people.
Can you build a pool on a low budget?
A swimming pool is a significant investment however as shown above, there are ways to get your dream pool for less money. There are cheap pool options out there but it's important to do your research and ensure you are buying a quality pool and filtration equipment. With a DIY pool not all companies are equal in their offerings. One way to create a cheap pool package is to include basic equipment which will bring the overall cost down. However, this can end up costing you more in the long run as you are more likely to have issues with the equipment that can lead to issues with the water quality of your pool.
If the filtration equipment in a swimming pool doesn't work well or is inadequate, it can lead to a range of issues that affect the overall cleanliness, water quality, and safety of the pool. Here are some potential consequences:
• Poor Water Quality: Filtration is essential for removing debris, dirt, leaves, and other contaminants from the water. If the equipment isn't functioning properly, these particles can accumulate in the pool, resulting in cloudy or murky water.
• Bacterial Buildup: A well-functioning filtration system helps prevent the buildup of harmful bacteria and pathogens in the water. Without proper filtration, the water becomes a breeding ground for these microorganisms, potentially causing skin irritations, infections, and other health issues for swimmers.
• Chemical Imbalance: Inadequate filtration can lead to poor distribution of pool chemicals. This can result in ineffective disinfection, making it challenging to maintain the right pH and chlorine levels necessary to keep the water safe and balanced.
• Reduced Efficiency: The pool's overall circulation and turnover rate are compromised when the filtration system is inefficient. This not only affects water quality but also impacts the efficiency of any heating or chemical distribution systems.
• Increased Maintenance: Without proper filtration, you'll need to perform more frequent manual cleaning, skimming, and vacuuming to keep the pool clean. This increases the time and effort required for pool maintenance.
• Filter Clogging: A struggling filtration system may become clogged more frequently due to the excessive load of debris and contaminants. This requires more frequent cleaning and backwashing, putting additional strain on the equipment.
• Shortened Equipment Lifespan: If the filtration equipment is constantly overworked due to poor water quality, its lifespan may be shortened, leading to the need for repairs or replacement sooner than expected.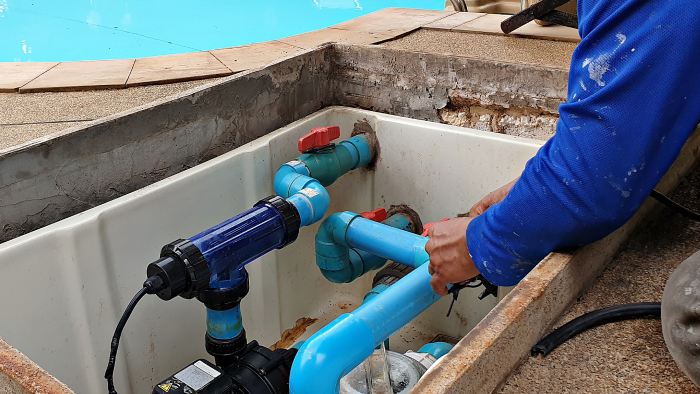 2. Planning and Design
Embarking on the journey to own a fibreglass pool is an exciting venture, but one that requires thoughtful planning and meticulous design considerations. Before you take the plunge, it's essential to plan your pool and make sure you have considered every expense, the last thing you want is to have hidden fees which will blow out your budget. Here's a closer look at what you need to consider as you delve into the planning and design phase of your fibreglass pool project.
1. Assessing your backyard space and limitations
A swimming pool needs to fit seamlessly into your backyard space. The size and shape of the pool are important but the type of pool you order depends on the space available. Services such as waste weather, storm drains and electricity lines can all impact on which size of pool you will be able to select. Take a look at your house plans and mark out in your garden where any underground services are located. These services can be moved but this can be costly so if you have a limited budget, you may be better off opting for a pool that can sit in between these services.
Overhanging trees can be an issue when it comes to craning the pool into position, so take note of these and mention them to the crane company or installer so these can be taken into consideration in the planning stage of your pool. No one likes hidden costs so it's best to know how any limitations in your backyard may impact the price of the pool installation.
Size and Shape
This is the first and biggest decision you'll have to make. A great idea is to start a Pinterest board and research the types of pools that would fit in well with the space you have. Consider the landscaping you want around the pool as this will dictate the size and shape of your pool. Would a rectangular pool sit well in your contemporary landscape, or would a freeform design nestle beautifully within your natural surroundings? Freeform pools have been trending in 2023 and there are some fantastic ideas out there when it comes to landscaping around them. However, the pool needs to work well for your family so consider the main uses of the pool. Quite often with families a rectangular pool works well as there's more space for seating and it's easier to play games like volleyball with a rectangular shape.
Should I add a Spa?
A spa is a great addition to your pool if you want to use the area year round. A spa can be placed next to the pool to create a spillway or it can be completely separate. Either way, the main benefit of having a spa is that you can heat it separately from the pool. Due to the size of a spa compared to a pool, it can be heated in a matter of hours with an Electric Heat Pump or even faster with a Gas Heater. We've never heard of a customer regretting getting a spa!
With a spa, the plumbing can be trickier than a pool, therefore it's a good idea to get it pre plumbed if you are getting DIY pool and spa combo. This just means that all of the plumbing comes fitted in the spa from the factory and you will just need to connect it up to the main pipes. Too easy!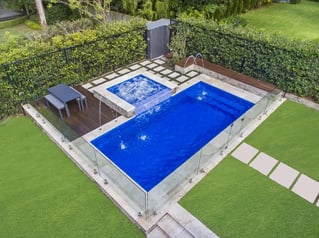 2. Early Project Planning: Set the Stage for Success
A pool project requires careful planning before the pool arrives. Line up your trades early in the planning process, including excavation, plumbing, and electrical trades. Having a cohesive team ready to go streamlines the project, ensuring a smooth process from the excavation of the first shovel of dirt to the final filling of your sparkling pool. The great thing about a DIY pool is that you have the flexibility to organise your own trades and get multiple quotes. This is where the cost saving can be seen.

TIP: Shop around for quotes and make sure you are comparing the quotes to ensure

3. Landscaping around the pool is crucial, it softens the pool and helps the pool blend into the backyard seamlessly . The careful selection of plants and design elements not only adds to the beauty of the surroundings but also contributes to the overall atmosphere and usability of the space. In Australia, where the climate can be challenging, thoughtful landscaping not only beautifies the pool area but also provides privacy and minimises maintenance. Selecting the best plants for around the pool will minimise debris in the pool which is important if you dont want to spend your saturdays fishing out leaves!

In Australia, where the climate varies from tropical to arid, selecting plants that are both visually appealing and able to withstand the conditions is vital. Palms like the Golden Cane Palm and the Kentia Palm add a touch of the tropics, along with Heliconia Hot Rio Nights while native plants like the Kangaroo Paw and Bottlebrush thrive in the arid regions. Succulents such as Agave and Aloe are both low-maintenance and drought-tolerant, making them excellent choices.

For a more formal look that's a great choice if privacy is an issue is a Lilly Pilly hedge. This will have minimal debris and creates a beautiful green wall which provides a contrast to the pool water. The main consideration when choosing landscaping is to ensure the plants are low maintenance so they will not need to be pruned and they don't have invasive root systems.

To ensure a successful poolside landscape, consider these three tips:
Choose plants that will thrive in the local climate
Select plants with minimal upkeep
Choose plants that can grow to give shade or privacy
3. Safety Measures and Local Regulations
Ensuring safety around a pool is of paramount importance. It's crucial to note that regulations and safety measures can differ significantly across the various states and territories so it's important to check in with your local council regarding your pool plans. All water bodies with a depth of 30cm or more need to be fenced in accordance with State or Territory legislation. So it's not just swimming pools and spas, but in fact inflatable pools and wading pools.
1. Safety Guidelines and Regulations in your Local Area
The Australian Standard for Safety Barriers for Swimming Pools states that all States and Territories require swimming pools and spas to have barriers installed that comply with relevant local regulations.

When it comes to your local Council requirements, we highly recommend that you call your local council and thoroughly research the permits required and safety measurements required.

Do I need a permit for an above ground pool?
Yes, you still need a Building Permit and follow all of the regulations as you would for an inground pool.
Ensuring safety around a pool is of paramount importance. It's crucial to note that regulations and safety measures can differ significantly across the various states and territories so it's important to check in with your local council regarding your pool plans. All water bodies with a depth of 30cm or more need to be fenced in accordance with State or Territory legislation. So it's not just swimming pools and spas, but in fact inflatable pools and wading pools.

The Australian Standard for Safety Barriers for Swimming Pools states that all States and Territories require swimming pools and spas to have barriers installed that comply with relevant local regulations.

When it comes to your local Council requirements, we highly recommend that you call your local council and thoroughly research the permits required and safety measurements required.

Do I need a permit for an above ground pool?
Yes, you still need a Building Permit and follow all of the regulations as you would for an inground pool.
2. Pool Safety Features
Fences
You need to install an appropriate fence for your pool to be compliant but choosing the type of fence can be tricky. There are various types of fencing and which one you choose will depend on the overall look you are wanting for your pool area.


Glass Pool Fencing

The most popular type of fence is a glass fence. It's easy to see why this has become a popular choice for pools across Australia. Glass fencing has gained popularity for its modern and sleek appearance that doesn't obstruct the view of the pool area. Frameless glass panels are a common choice, offering a seamless and elegant barrier.


Pros of Glass Pool Fencing
Aesthetic Appeal: Glass fencing provides a modern, sleek, and unobtrusive look that enhances the visual appeal of the pool area while maintaining an open and spacious feel.
Unobstructed View: Glass panels allow for a clear view of the pool and its surroundings, which is great for supervision especially if you have young children.
Reflects Light: Glass reflects natural light, brightening up the pool area and creating a visually inviting space.
Durability: Glass panels are highly durable and resistant to weather conditions, ensuring longevity and minimal maintenance.
Customisation: Glass panels can be customised in terms of height and size so it works well if you need a higher section in order to meet requirements for certain areas around the pool e.g. due to tall plants


Cons of Glass Pool Fencing
Cost: Glass fencing tends to be more expensive upfront than other materials, which could be a significant factor if you're working to a tight budget
Installation: Installation of glass fencing often requires professional expertise, adding to the overall cost.
Privacy Concerns: While providing an unobstructed view can be an advantage, some homeowners may feel uncomfortable with the lack of privacy that glass fencing offers.
Maintenance: While easy to clean, glass panels can show fingerprints, smudges, and water spots, necessitating frequent cleaning for optimal appearance.
Safety Considerations: Glass can be less obvious to spot than traditional barriers, potentially posing a safety hazard if not marked properly, especially for little children.
Breakage: Although tempered glass is designed to shatter into small, relatively harmless pieces, breakage can still occur and require replacement.


Aluminium Pool Fencing
Aluminium pool fencing is the most cost effective option for a pool barrier. With a range of $100-$120 per lineal metre, it's certainly a great choice if you need an affordable option. With a wide range of powder coated colours available, you can also customise the fence to fit in to your landscaping plans


Pros of Aluminium Pool Fencing
Affordability: Aluminium fencing is generally more budget-friendly compared to materials like wrought iron or glass, making it an attractive option for cost-conscious homeowners.
Airflow: Your pool area can become very hot and having the breeze through the fence can be a welcome relief on a hot day.
Durability: Aluminium is resistant to corrosion and rust, making it a durable choice that can withstand various weather conditions without deteriorating.Installation: Aluminium fences are relatively lightweight, making installation easier and potentially more cost-effective.
Versatility: Aluminium fencing can work well in different types of landscapes and architectural styles due to its versatility in design. Black fencing has become increasingly popular



Cons of Aluminium Pool Fencing
Less Privacy: Aluminium fencing typically offers less privacy compared to materials like wood or pool perf, which could be a drawback for those seeking a more secluded pool area.
Visual Obstruction: While not as obstructive as other materials, aluminium fencing can still create a barrier that partially obstructs the view of the pool area.
Limited Sound Reduction: Aluminium fencing doesn't provide sound insulation, so noise from outside the pool area might still be audible.Less Luxurious Appearance: While available in various designs, aluminium fencing might not offer the same level of elegance as materials that glass provides.
Maintenance: Although low-maintenance, aluminium fences can show scratches and dings over time, which might impact their appearance.
Less Modern Look: For homeowners seeking a modern or sleek aesthetic, aluminium might not provide the same contemporary feel as glass or metal options.

If you want to have a modern look and the benefits of glass but are on a tight budget, you can opt to have a mixture of glass fencing and aluminium fencing. If you want the seamless look of glass from the house to the pool then you could use glass on one side of the pool and aluminium on the other sides.


Pool Perf
A new offering for a pool fence is Pool Perf. This product is made of perforated aluminium panels. Each panel has 10mm diameter holes so you get the airflow and transparency. Made in Australia, this is a great product if you want a certain design or colour that is durable and designed to ensure maximum safety.


3. Council Approval
One of the stages of a pool that can seem daunting is gaining Council approval. As we have mentioned before, there are different regulations for each council, so it's important to check with your council for the pool requirements in your area. Swimming Pool Kits Direct offers a service with a partner who will take care of this for you,so if the approval process sounds like a headache that you'd love to avoid, give us a call and we can help.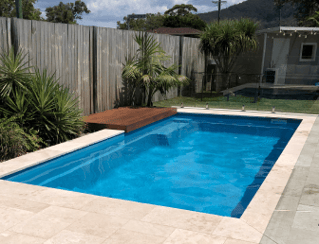 4. Swimming Pool Kit
A Swimming Pool Kit is another name for a Swimming Pool Package. Essentially you have everything you need to get a pool up and running delivered to your kerb in one 'kit'.

Included in the kit is a fibreglass pool shell, a pump, chlorinator and filter. When looking at a swimming pool kit it's crucial that you look at the quality of the products being sold. Research whether the pool shell is Australian made and take a look at the filtration equipment to make sure it's sized correctly for the size of pool you are buying.

You will need other equipment for the pool to get up and running such as pool salt or magnesium minerals so go for a swimming pool kit that provides everything you need so there's no last-minute trips to the pool shop!

At Swimming Pool Kits Direct we provide everything you need from robot cleaners to waterfalls. We have different package options from the Essentials, Signature and Platinum range where you can customise your kit to include different brands of your choice.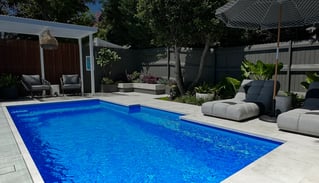 5. Preparing the Site
Preparing the Site
When it comes to installing a pool in Australia, proper site preparation is key to ensuring a successful and long-lasting pool that you and your family can enjoy for years to come. It's important to note that due to the different soil types throughout Australia, each pool dig is different.
1. Pool Boundaries
The very first step in your fibreglass pool installation is to mark out where you're pool will sit. You can use spray paint or string to mark out the shape of the pool to get a clear idea of how the pool will sit in your backyard. Depending on your local regulations and personal preferences, your pool can be positioned in various ways – close to the house, centred in the yard, or aligned with specific features like garden beds or trees. This is the stage where you need to undertake a bit of research too. Underground cables or pipes should be on your house plans so take a look and ensure that the space you want to use is free from any obstructions.

2. Excavation and Soil Preparation

This is the stage when things will start to look messy! The first step is to mark the outline of your pool's shape on the ground. After that, excavation machinery will be brought in to carefully dig out the area according to the pool's dimensions. In Australia, where the soil types can vary greatly from region to region, it's essential to account for the soil's characteristics during excavation. The soil's composition can impact factors like drainage, stability, and the potential for shifting over time. Addressing these considerations will help ensure the pool's structural integrity.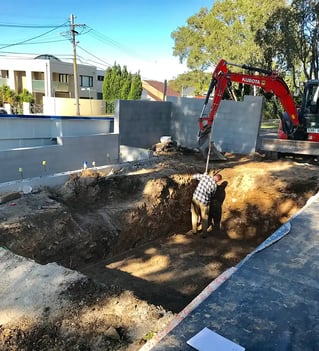 6. Installation Support
Finding a reliable and experienced pool installer
A pool purchase is a significant financial commitment therefore it's crucial that it's installed correctly. The installation is the stage which is the most important to get right so using a licensed experienced fibreglass pool installer is a popular choice. A reliable pool installer brings a wealth of experience to the table, ensuring that your pool installation adheres to industry best practices and standards. Their expertise not only guarantees the precise excavation and positioning of your pool but also encompasses essential factors such as proper levelling and appropriate material usage.

The first place to ask for an installer recommendation is your DIY fibreglass pool company. At Swimming Pool Kits Direct we have a network of installers that previous customers have used. Another good place to seek out a recommendation is your local pool shop.

By conducting thorough research and seeking recommendations, you can identify an installer who boasts a track record of delivering quality installations. This careful selection process significantly contributes to the longevity of your fibreglass pool, as the right installer lays the groundwork for a structure that will last for years to come.

A pool installation has specific steps which need to be followed and if you lack trade experience or the time to manage the project yourself, enlisting the expertise of a professional pool installer is often the best route to take. Many pool installers offer turnkey packages that will take your project from start to finish. This can include handling the task of acquiring necessary council permits, managing the excavation, and even attending to finishing touches like pool fencing and landscaping. By opting for this type of package, you not only streamline the installation process but also benefit from the pool installer's understanding of local regulations and best practices. This way, you can relish the excitement of your upcoming pool without any worries, knowing that every detail is in the capable hands of experienced professionals.


Important steps when choosing an installer
Research and Verify Credentials: Begin by researching local pool installers and verifying their credentials, this can be done by checking their license number online. This foundational step ensures you're dealing with reputable professionals.
Seek Recommendations and Reviews: Reach out to friends, neighbours, or online platforms for referrals and read reviews. Insights from those who've experienced pool installations firsthand can offer valuable insights.
Conduct Thorough Consultations: During consultations with potential installers, ask about their experience, previous projects, and the materials they use. Gathering this information helps you assess their expertise and suitability for your project.


How an installer can assist with complex tasks
Installing a pool involves a multitude of complex tasks, and having a skilled installer by your side can make all the difference. Here's how they can be instrumental in handling these installation steps:
Expertise in Design and Planning: Pool installers have the experience and knowledge to help you design a pool that not only fits your vision but also complies with local regulations and safety standards. They'll assist in selecting the right location, size, and shape for your pool, optimizing its functionality and aesthetics.


Excavation and Construction: The excavation process requires precision to ensure the pool's structural integrity. Installers have the equipment and expertise to excavate and construct the pool properly.


Electrical and Plumbing Work: Pools require electrical and plumbing installations for features like lighting, filtration, and heating systems. Installers can manage these technical aspects, ensuring safety and functionality.


Pool Fencing and Safety: Meeting safety requirements, especially concerning pool fencing, is paramount. Some installers can oversee the installation of compliant pool fences to safeguard your pool area and keep it in line with local regulations.


Landscaping Integration: Some pool installers offer landscaping services as part of their package, seamlessly integrating your pool into your outdoor space.


Quality Control and Inspection: Installers should maintain rigorous quality control throughout the installation process. They should conduct inspections to ensure that every aspect of your pool meets industry standards, reducing the risk of issues down the line.



Working with an installer for a successful DIY project

It can be tempting to take on as much of the DIY pool installation as possible in order to save money. However, enlisting the expertise of a contractor can significantly enhance your chances of success.
Collaborating with a contractor doesn't mean relinquishing creative control; instead, it's a strategic partnership that leverages their expertise to enhance your DIY pool project. Their support can streamline the process, minimise mistakes, and optimise results. By merging your vision with their know-how, you can embark on your DIY pool journey with the confidence of a seasoned professional by your side.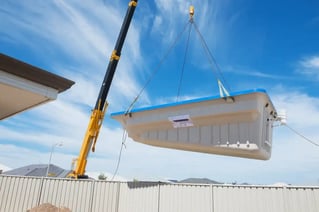 7. DIY Landscaping for your Pool
An element of the pool project that customers commonly feel confident about tackling is the landscaping following the pool installation. You can hire a landscaper to plan and carry out the entire process, however if you're looking to save money then this is a part of the process where you can have more input.
Here are three areas you can confidently handle to create your dream pool area:
Creative Planting and Arrangement
One of the most satisfying aspects of DIY landscaping is curating your own plant palette. Selecting a range of plants for different areas of the pool can make a striking impact on the area. Research native plants that thrive in your area's climate and soil conditions. Choose a variety of plant sizes, textures, and colours and also think about the seasons. Opt for plants that not only complement each other but also transition from winter through to summer, ensuring your poolside landscape remains vibrant year-round. By strategically placing plants in different zones, you can establish areas of privacy, shade, and open views, enhancing the overall poolside experience.


Decorative Elements and Pathways
Think about how you will use your backyard when the pool is installed. Create pathways using gravel, stepping stones, or pavers to guide visitors around your pool. Incorporate outdoor furniture and accessories that match your chosen style – whether it's cozy loungers for relaxation or a dining set for poolside gatherings. Functionality is important so alway have this at the forefront of your plans.
Lighting Ambiance and Accents
Designing your poolside landscape includes planning how your pool area will transition from day to night. DIY lighting installation lets you play with light and shadows, creating a magical atmosphere after sunset. Solar-powered lights are a great idea to cut down on your electricity bill but do some research as the cheaper options often don't cast a powerful light and will also not last very long. String lights and pathway lighting can be easily installed to highlight features such as large trees, add warmth, and extend the usability of your pool area well into the evening. A standard pool kit will include two lights in the pool shell so think about the areas you will light up around the pool for a night time swim!
Tips for DIY Success
Plan, Start Small and Gradually Expand
Begin with a clear plan and manageable projects. There are programs online that you can use to plan out your garden and select appropriate plants for your area. These design programs can be used at the start of your project so you have everything mapped out before the pool installation starts. There are also ready made designs that you can use to look at which types of plants work well together.
Research and Learn
There's plenty of information out there for free so schedule in some time at the start of the project to look through online resources and gardening books. A fantastic resource is your local gardening centre, they can give tips for what plants will work in your local area. Knowledge is your greatest asset in creating a thriving poolside oasis.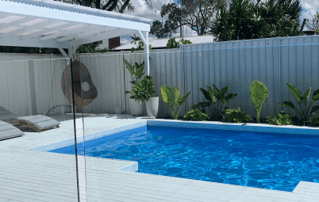 Conclusion
Throughout this guide, we've provided insights on the stages of the DIY pool journey from assessing your backyard space and navigating local regulations, through to choosing the perfect plants for your landscaping. As with any project, a DIY swimming pool needs careful planning and this guide has been put together to help your planning process.
If you have any questions at all then we are here to help. As the trusted and original swimming pool kit brand for 10 years, we love nothing more than helping more happy customers get their dream pool.